Raising awareness about human trafficking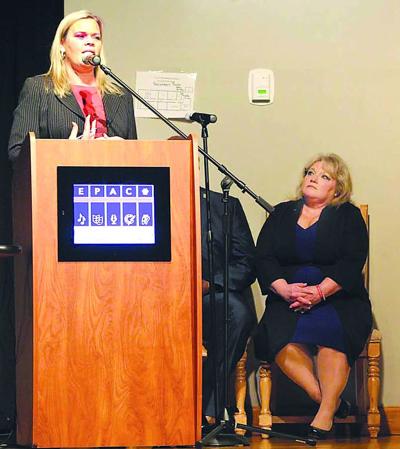 A human trafficker makes $1,000 a day off of an adult victim in the sex trade and $2,000 off a child, Allyson Cox Taylor from the Kentucky Attorney General's Human Traffic­king Task Force told those in attendance Saturday at the human trafficking awareness and training event at the Elizabethtown Performing Arts Center.
Saturday's event was held to help raise awareness about human trafficking. Hardin County Sunset Rotary, Elizabethtown Performing Arts Center, Polk's Auto Unlock Service, Towing and Recovery and others rallied together to host the event.
Taylor went on to say half of the children who are internationally trafficked have some family involvement in that arrangement. She said the average age of entering into human trafficking is 12 to 14. But when the child is trafficked by a family member that age of entry is 5, she said.
According to preliminary data gathered as part of project Pivot bythe Human Trafficking Research Initiative through the Kent School of Social Work at the University of Louisville, Taylor said there have been 698 suspected or reported child trafficking cases in Kentucky since 2013. Of those, 95 were substantiated.
Of the 95, 87.4 percent were female, the age ranged from two weeks to 17-years-old, 97.9 percent were American born, 92.6 percent were soley sex trafficking victims and 78.9 percent were trafficked by a family member.
"So those are the sad numbers I have for you today. But the good news is we are getting more and more cases and getting more and more reports," she said, noting people are becoming more aware of the signs and what to look for.
In 2017, Kentucky Attorney General's office and Catholic Charities conducted 80 statewide trainings, reaching nearly 3,500 individuals and created the state's first coordinated effort to train hotel staff to recognize and report human trafficking, Taylor said.
According to its website, the Attorney General's office also has worked with the Department of Criminal Justice Training to offer human trafficking as a standardized class to Kentucky police officers. The state's first full-time human trafficking investigator, who is paid for by the federal grant Kentucky received in 2016, developed the course curriculum.
Connie Ferguson and Jerri Kullman, counselors, were both in attendance at the Saturday's event.
"We thought this would be very informative," Ferguson said. "The numbers were a lot higher than I really thought they were."
Kullman agreed, saying it was "shocking."
Taylor said human trafficking does occur around the Kentucky Derby, which is set for Saturday, however, simply because the event passes does not mean people should rest easy.
"Anytime there are more people in town there is going to be more trafficking," she said.
Taylor was one of several guest speakers at the conference. Other speakers were Devon Robinson, a sexual assault nurse examiners and ambassador of hope from Shared Hope International; Amy Leenerts, survivor and founder of Free2Hope; Renea Ford, mental health educator; and K.D. Roche, survivor, speaker and author.
Informational booths, authors, support groups and nonprofit organizations were on site to help with any questions or concerns. There also were food trucks and tables set up outside the building.
The national human trafficking hotline number is 888-373-7888. Report suspected trafficking of children to 877-KYSAFE1.